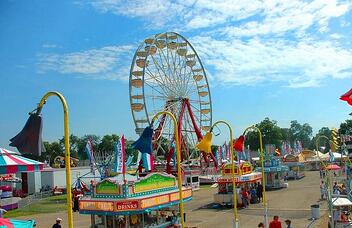 It's fair time in Michigan and summer 2018 is all set for some great fun! Throughout Michigan, communities of all sizes bring out rides for kids and adults, special food, entertainment and prime livestock.
Coming up in July, two fairs that BHT&D CPAs has close relationships with are the Ionia Free Fair and Barry County Fair.
The Ionia Free Fair in Ionia County runs July 12-21, 2018 and has these attractions in quantity. The midway has rides gentle enough for the little visitors and wild enough for the adventurous. Entertainment runs from local musicians to homemade desserts, tractor pulls to rodeo, monster trucks to 4-H livestock exhibits, and the Governor's Luncheon with the Governor of Michigan.
The Barry County Fair in Barry County runs July 15-21, 2018. The schedule this year includes horse pulls, harness racing, rodeo and a demolition derby, as well as the livestock exhibits, sewing and culinary arts, and a food competition. And there are rides!
From the beginning, BHT&D CPAs has worked closely with the agribusiness community, being surrounded by some of the best farm land, and farmers, in Michigan. We have grown up alongside the first, second and third generations of successful agricultural families. Many of our client families have children who learn strong life and business values by participating in the animal shows through the local 4-H programs or individually. They raise an animal for a year or more, tending to all its health needs and comfort and grooming it for the fair shows in the summer. It is a long-term relationship that produces quality results. Whether he or she wins a ribbon or not, or sells the animal at auction, the lessons learned along the way are those that build a solid foundation to stand on for the rest of their lives.
Because BHT&D CPAs supports the core values embraced by the farmers of all communities, you can find us supporting their time to shine! There is nothing like the smiling face of the youngsters when they come in, personally and often with a parent, to get our support for their animal at the shows. And the wonderful desserts that appear in our office after the bakery auction….yum.
Please take the time to visit your local fair and witness the sights and smells that are the grass-roots of our country. And visit us at the Governor's Luncheon at the Ionia Free Fair on Friday July 13th or the State Heavyweight Championship Draft Horse Pull at the Barry County Fair on Sunday July 15. See you there!
Agribusiness accounting is a large part of the services offered at BHT&D CPAs and has been since we began in 1971. If you are interested in discussing how we can help you in this unique business please request a complimentary accounting consultation or contact us at (616) 642-9467.
By: Mindy Pennock